Google Calendar Help
Calendars on our CalDAV Calendar Hosting Server and our WebDAV Calendar Hosting Server can be subscribed to with Google Calendar using a Google Apps script. Updates in CalDAV are automatically updated on Google Calendar at the frequency you set in the script. Please note: This is one-way only, a subscription. Therefore edits you make in Google Calendar will not be sent back to the CalDAV server. Only edits made on the CalDAV server will be sent to Google Calendar.
Here are the instructions.
1) Log in to Your Google Account and go to the Google Apps script GAS-ICS-Sync.
2) Click 'Make a copy'. Please take a look at the illustration below.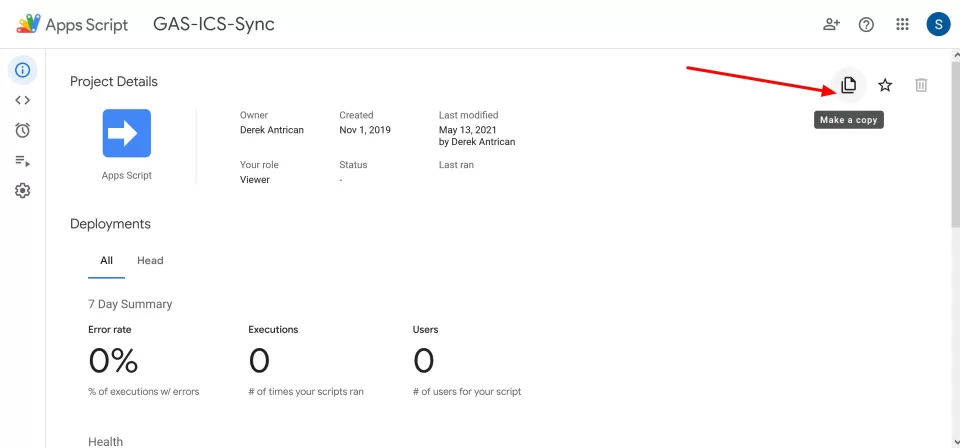 3) Then go to Code.gs. See the illustration below.
4) Follow the installation instructions. Please see the illustration below. Only two settings need to be edited. Enter the var sourceCalendars and set the var howFrequent to the number of minutes you want it to refresh. See the illustration below.
5) You do not need to do anything in Google Calendar. It will show up automatically as a subscribed calendar.
WebDAV Calendar Hosting Note: It only works with calendars published to the Public URL. WebDAV Calendars published to the Private URL require a username and password to view, and Google Calendar does not support authentication.
Venue Communications, Inc. offers CalDAV Hosting.