Blog posts to 'Announcements' category
News and announcements posted to the Venue Communications Blog.
Posted June 10, 2014 to Announcements.
Venue announces the launch of the redesigned Suffolk Beauty Academy website.
---
Posted June 6, 2014 to Announcements.
Welcome aboard to our newest client EasyVote Solutions.
---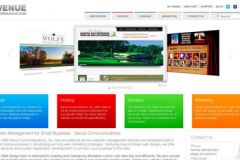 Posted April 27, 2014 to Announcements.
We have completed a redesign of our site at www.venuecom.com. It uses the design strategy "get design out of the way and let content be king" that we have been suggesting our clients use. This of course begs the question "Why is it the designer's own site that's always last to get updated?" We finally did it and after several months of work it's completed.
---
Posted December 18, 2013 to Announcements.
We launched the redesigned www.legaltypist.com this morning and already getting positive feedback. Thanks Andrea!
---
Posted October 16, 2013 to Announcements.
This month we launched a new site for an existing client, arkansascollegeofbarbering.com. Thank you for your continued confidence in us.
---
Posted April 2, 2013 to Announcements.
Welcome to our newest client, New York City's ENZ'S at www.enzsnyc.com. This fifties-inspired boutique has undergone several reincarnations through the years first as a local hangout for enfants terribles like Lou Reed and Debbie Harry in the seventies, then as a destination for full-on rocker-chic ensembles on St. Marks in the eighties. Now settled into a slim space on Second Avenue, Enzs has reinvented itself once again as an outfitter of modern-day pinups and rockabillies.
---
Posted February 4, 2013 to Announcements.
Impulse Web Solutions launches a site for our new client www.wilmingtonanimalrehab.com. Wilmington Animal Fitness & Rehabilitation Center asked us to rebuild their web site for our content management system (CMS) to make it simple and free to keep updated.
---