Don't let another year day go by without Email Marketing Tools.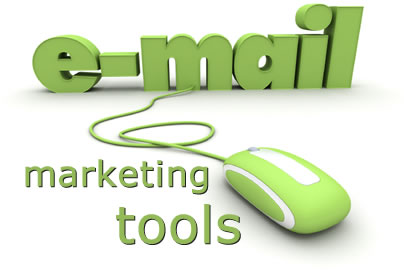 Email Newsletters:
Think about how you read your own email. You may not open it, but I bet you will at minimum read the subject and from line; otherwise, how would you make your decision on if to open it. Email newsletters put your company's name and current news in front of your customers, reminding them that you are still active and eager to do business with them again.
You Receive Important Notifications such as:

When new members subscribe
When members unsubscribe (including why they unsubscribed)
When emails are distributed
Unlimited Email Templates in HTML and Plain Text
Newsletter Distribution Pricing
You design or we design templates
Duplicate templates
Merge data such as Dear [first-name]
Track which links in email have been clicked
Track views
Complete Web Site Integration
Subscribe and unsubscribe forms can be added to your web site
Bounces processed in background and member status automatically changes after bounce criteria is met
Complete Customization such as:
Custom scripting
Single or Double Opt-In
Scrub members for any criteria
See Opt-In Mailing Lists for tips on how to build up a list of email addresses for an email marketing campaign.
Additional Email Marketing Tools
Virtual Post Cards:
Venue Communications, Inc. can install the Virtual Post Card software on your site as well as create custom images and text to promote your product or service. The cost is $99.00 to install the software. You can create your own ads or we can custom design them for you. Contact us for additional information.
Request a Link:
An important aspect of increasing traffic to your web site involves emailing sites that have a strong affinity with your own and requesting that they link to your site.
Here is an example Link Request.
This email may not necessarily lead to a link for your site, but if these messages are sent regularly, you will be exposing your web site to a lot of webmasters on the Web. This message would be even more effective if you offer a link to the them in exchange for the one requested.
Note: Another benefit of regularly perusing and contacting other sites is that you can see what steps they have taken to get Web exposure.