Configuring your Local Email Client (Pegasus Mail)
Follow the instructions below to configure Pegasus Mail for use with your Venue Communications, Inc. POP3 account.

Note: An example account name was used through the instructions. Please substitute your Venue Communications, Inc. POP3 email address information for the account used in the instructions.
The example email address is: yourname@yourdomain.com
The example Domain is: yourdomain.com
Configuration Steps

1. Start Pegasus mail from your desktop or from Start/Programs/Pegasus. Go to the Tools menu, then select Internet Options.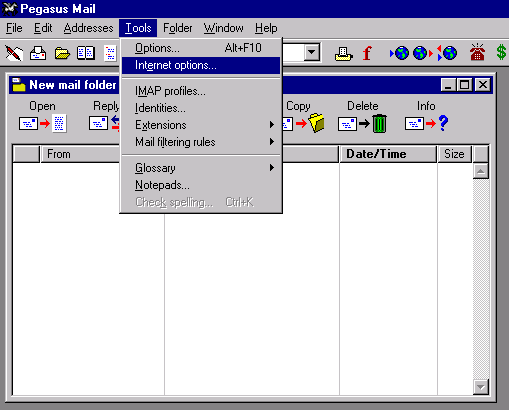 2. Click on the Start Setup Wizard Box.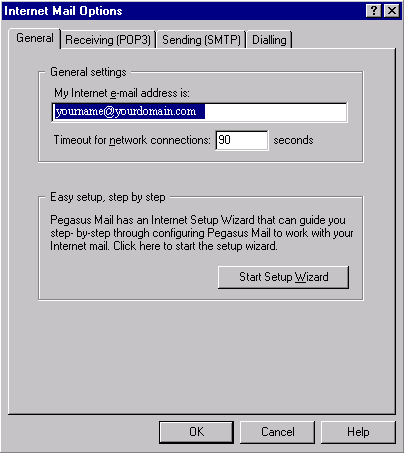 3. On the first screen, click Next.
4. On the second screen, enter your email address, then click Next.

5. On the third screen, enter your POP3 Server. The example mail server used is mail.yourdomain.com. Then click Next.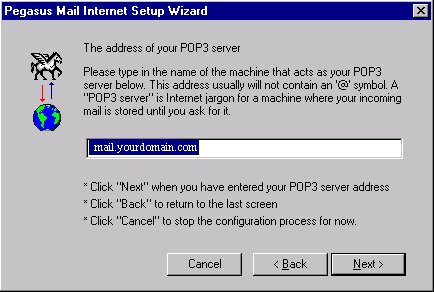 6. On the fourth screen, enter your user name and password. Your user name is your full email address. In the example, it is yourname@yourdomain.com. Your password is your POP3 account password. Then click Next.

7. On the fifth screen, enter your SMTP server. The example domain used is mail.yourdomain.com. Then click Next.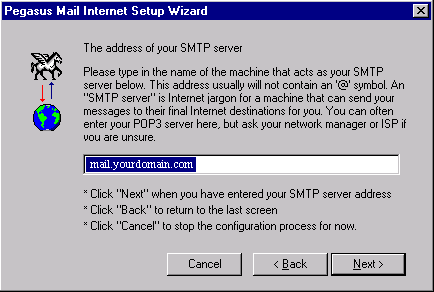 8. On the sixth screen, choose your Internet connection, Then click Next.
9. On the seventh screen, click Finish.

10. Back on the Internet Mail Options screen, click the Sending (SMTP) Tab. In the Authentication Box, check the Login using your POP3 settings for username and password. Click OK.
Recent security enhancements require authentication when sending mail. Under your outgoing mail server settings choose to authenticate when sending email. If asked, the method of authentication is MD5 Challenge-Response.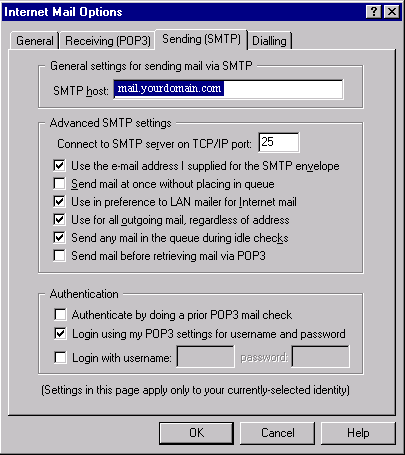 Configuration is complete!