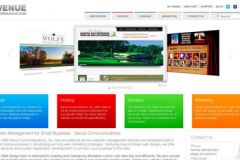 ---
Posted February 3, 2014 to Announcements.
We have completed a redesign of our site at venue.cloud. It uses the design strategy "get the design out of the way...
---
Posted January 4, 2011 to Announcements.
After running a successful internal campaign to promote our social networking service to our existing clients we...
---
Posted October 7, 2010 to Announcements.
After receiving feedback about our website, we decided it was time for a major update. The problem was (as it always...
---
Posted December 9, 2009 to Announcements.
Venue Communications, Inc. has acquired the web design firm Impulse Web Solutions. Impulse provides web design...
---
Posted October 1, 2007 to Announcements.
Today we released the redesign of our web site which is now a live demonstration of web marketing tools and...